The Internet is not the same it was in my childhood. Internet was just becoming a tool everyone would use. In today's world, the Internet is like pen and paper, so obvious everyday thing; you don't even think about it. My daughter went to school last year, and everyone had mobile phones already. I think that's a bit crazy. Seven-year-old does not need a cell phone. When my daughter's teacher said they might be needing a mobile phone later this year, it sounded like it's a necessary tool of sorts. Well, a phone has not been "just a phone" for a very long time, so that's quite understandable.
So, my daughter didn't have a phone during her first year of school. Her friends had, and she nagged me about it every week or so. She wanted to get into their Snapchat group. Didn't like the idea my 8-year-old would "snap," but if she did, I would like to control it on some level. She's my kid after all, and I have the same worries than every other parent out there. I don't want anything bad to happen, and while I am a nerd, it doesn't make me a Superman. How would I know how and what for she uses her phone when I'm not around?
It's arguable whether we should monitor our children's digital activities or not because it's all about parenting and trust. But there is the whole world out there on the Internet, and us as parents must stay sharp. Kids learn quickly, but they don't have the same defense system than adults; they trust everyone and everything by default. That's where the apps and tools come handy.
Every parent should have a Google account for their kids to control their Internet and YouTube videos. My kids sometimes go to "the dark side of YouTube, " and I have to remove some watched videos to get rid of strange recommendations.
Google Family Link launched a while ago, but it's not yet in Europe, and it needs an invite, so can't use it yet. However, it would probably be the best solution currently.
So, it's my daughter's 8th birthday, and I purchased a phone for her. Started googling parental control and surveillance apps, but soon learned there are not many. Most of them are quite ugly, bloated or expensive. As a nerd, I could root the phone and try to install some log watchers or something, but I need total control easily, and that might be only possible programmatically.
Even for a parent, it's quite strange for monitoring all the chat messages, and I'm not much into that. There's not any good and cheap way to do that anyway. For me, it's enough if I know where the phone is (= where the kid is), what apps she uses and which numbers she calls. That's about it. The rest of it is about trust and setting boundaries.
SecureKids to the rescue
Stumbled on SecureKids via Google Play recommendations and didn't look further. This seems to be the best tool at the moment – and it's completely free! It's easy to set up, and you can install it on any device.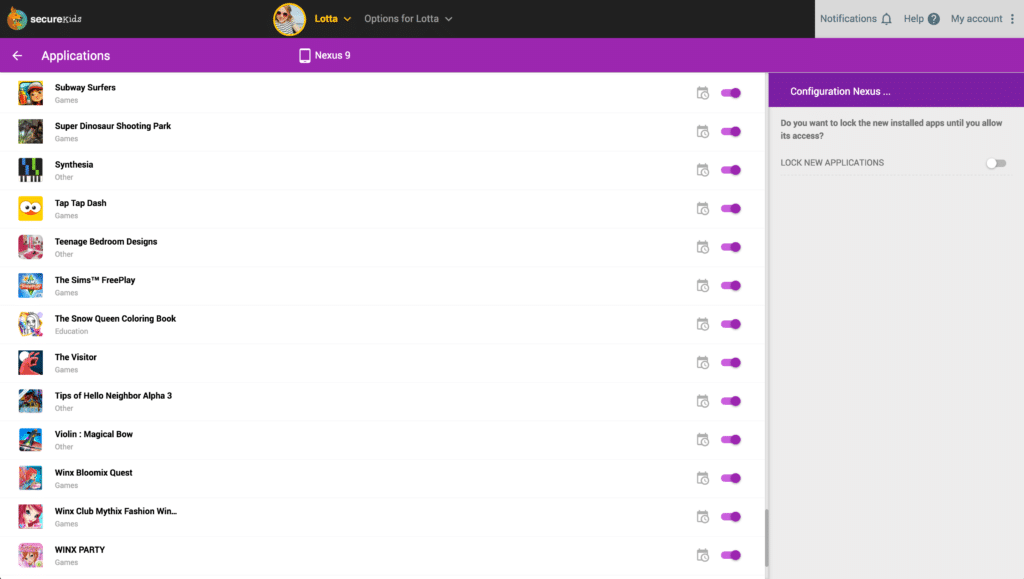 First, you create an account, then add your kids in, their ages and profile images, etc. After that, you link the device, and you're done.
SecureKids is a company based in Malaga, Spain. The control panel can be viewed either on parent device or via web browser at securekids.es/en. The product feels professional and safe, unlike some alternatives.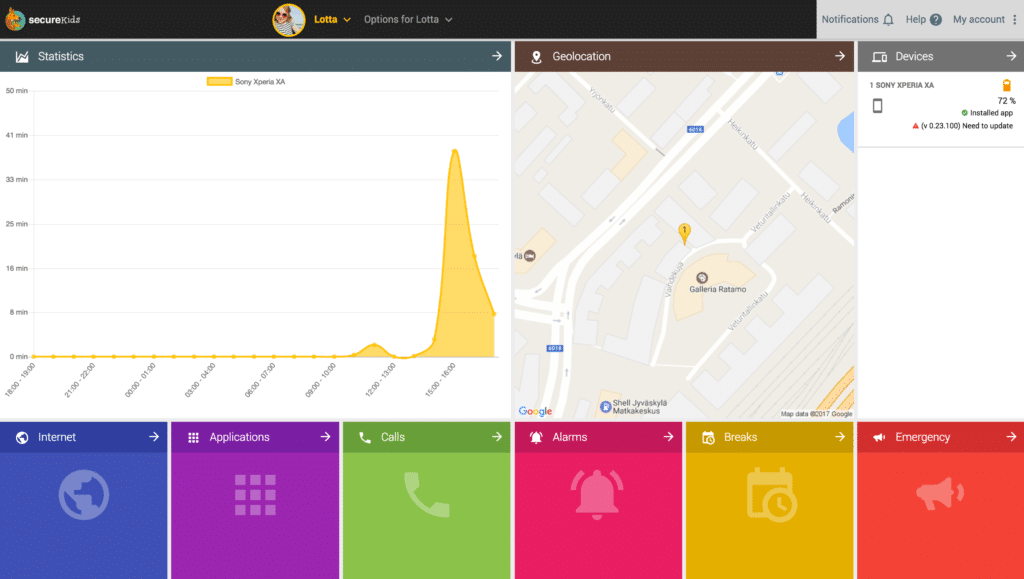 The app is currently available on Android.
Features
– Monitor overall device usage
– Control apps, lock apps, prevent installing without approval
– Block websites with manual rules or use blocklists (violence, porn, drugs, etc. )
– Block international calls, unknown call, and manually defined numbers
– Add alarms remotely to device
– Block using apps in certain period
– Set emergency options for your child to use
– See GPS location on the map
– View device information, battery status, etc.
The best thing in SecureKids is that it is completely free!
Alternatives
Kidgy is a fun little app, but doesn't have any web view. Tried it and it wasn't bad. However, a monthly subscription for over 6 euros with so few features didn't get me to continue using it.
Kaspersky Safe Kids is similar to SecureKids, but more confusing somehow. No web view here either. Also, it's more pricey, over 18 euros per year as one-time payment for the whole year.
What do you use? Do you know any better software? Feel free to recommend me!
Thanks for reading! I need your attention for a moment.
Did your problem got solved? Did you enjoy this post? If so, consider thanking me on Patreon. Doing this is not free and I'd love you buy me a beer or coffee. If you do that, I might be able to help you if you didn't get your problem solved with this blog post. I know my shit around areas like website design, coding, blogging, digital marketing and SEO so if you want to do business with me in other ways let me know.