Live chat is a great way to talk to your visitors or potential customers. When I first started my small business I went through dozens of live chat software. The quality and prices vary a lot! Some have even $100 costs per month and have little extra value compared to competitors. This time I will save you the trouble to go through all of them and give your the absolutely best choice available.
Crisp Live Chat
Back in 2016 when I started to use Crisp I noticed how the UI is way more polished and slick when compared to other chat services. It has many features and it doesn't force-feed you to use the ones you don't need. It's simple, easy to use and nice for administrators and the website visitors.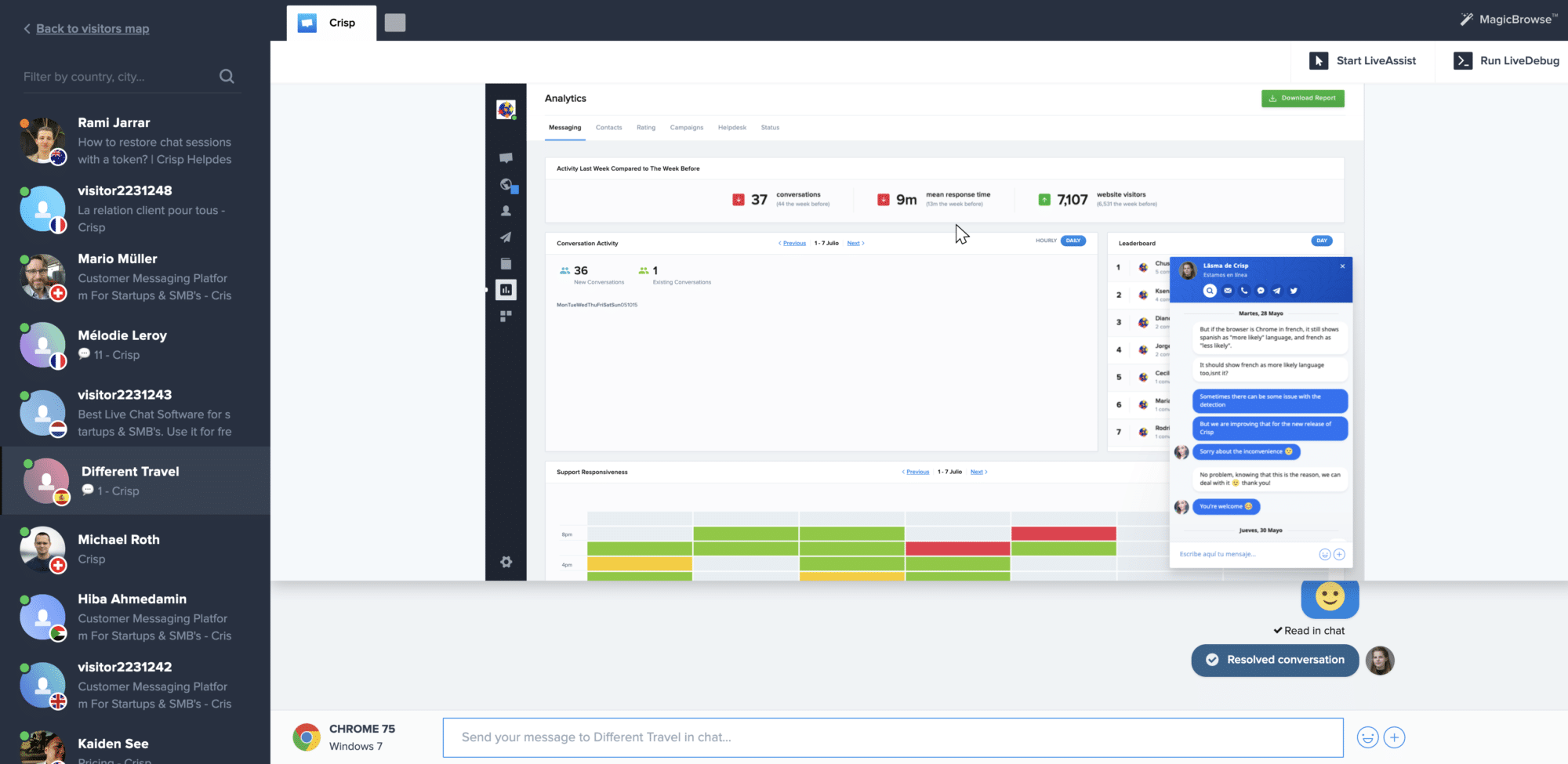 On top of normal chat functions you can even see what the visitor is doing, in Hotjar-style (psst. Check out Hotjar's The complete guide to session recordings, it's awesome!), if visitor's privacy settings allow it. If the agent is unable to answer in time, you can play Flappy Bird in the meantime.
Pros
Free! (of course there are paid plans too, which are awesome, by the way)
Slick and easy to use UI
Apps for every platform
Lots of customization featuers
Lots of languages (even Finnish)
Recognizes user browser language
Support for multiple users
Support for multiple websites
Great away indicators
Automatic user information from email, if exists
Screencast
Possible to send files and screenshots
GIF-support
Emoji support
Works inside the browser as well
Possible to answer to chats via e-mail
E-mail transcripts
Real-time stats
Analytics
Possible to see user typing before sending the message
Updates frequently, great developers
API for developers
Integrations for many platforms like Slack and Telegram
Automatic messages
Audio messages
Video messages
Cons
Is there any? You tell me!
Thanks for reading! I need your attention for a moment.
Did your problem got solved? Did you enjoy this post? If so, consider thanking me on Patreon. Doing this is not free and I'd love you buy me a beer or coffee. If you do that, I might be able to help you if you didn't get your problem solved with this blog post. I know my shit around areas like website design, coding, blogging, digital marketing and SEO so if you want to do business with me in other ways let me know.